Background
Korea needs fundamental countermeasures to mitigate
damages from repetitive floods and droughts caused by climate change.

A necessity of an adequate amount of water resources to prepare for future water scarcity.
(800 million ㎥ in 2011, and one billion ㎥ in 2016 expected)
Excessive amount of budget has been spent in recovering water-related damages that could have been saved through investment in disaster prevention measures.
- Annual flood damage: 170 billion KRW in the 1970's 2.7 trillion KRW now
- Annual investment in flood prevention: 1.1 trillion KRW
- Restoration expenses: 4.2 trillion KRW
Strengthen the management of pollutants to improve water quality due to the increase of COD that takes a long time for degradation and TP that results in eutrophication.
The rivers restoration is a packaged project that will resolve water-related problems and renew our territory centering on water.
It is also a comprehensive pan-government project that consists of various plans set up by diverse ministries with massive investment over a short-term period.
Project Summary
| | |
| --- | --- |
| Project Period | 2009 ~ 2014 |
| Project Area | Han, Nakdong, Geum, & Yeongsan Rivers Seomjin River & Thirteen major tributaries of mainstreams |
| Major Facility | |
| Budget | 200 million US$ |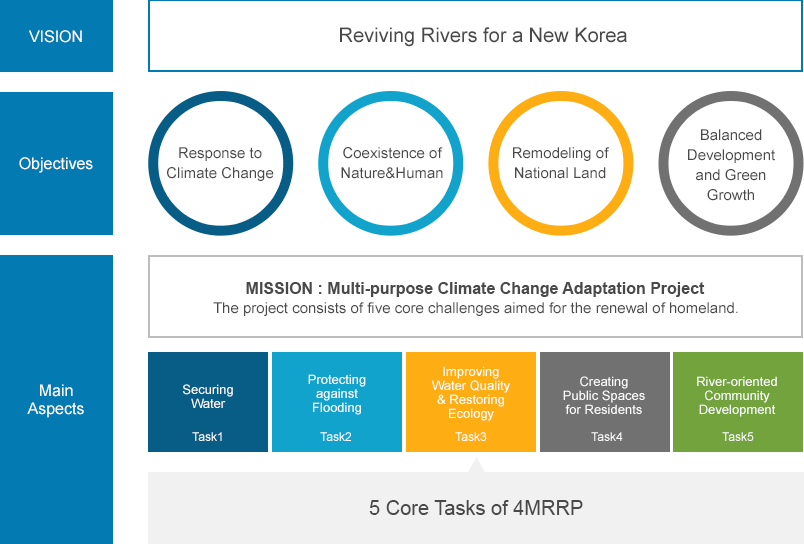 Five core challenges of the Four Major Rivers Restoration Project
Task 1 (Securing abundant water resources to mitigate water scarcity)
Around 1.17 billion m3 of water will be secured.
Secure adequate water supply (1.17 billion m3) to respond to future water scarcity and severe drought due to climate change. To this end, reservoirs and small- and medium-sized dams will be built, and the storage capacity of agricultural reservoirs will be expanded.
Ipo Weir (The Han River)

Heightening the River Banks

New Dam Const. (Yeongju Dam)

Dredging Riverbeds

Reinforcing the River Banks

Connecting Andong and Imha Dams
Task 2 (Implementing comprehensive flood control measures)
Prepare for 200-year flood frequency by dredging
Preemptive measures are necessary to mitigate repetitive floods due to climate change, as well as 200-year floods. Therefore,dredging of sediment, strengthening of old levees, and building of dams will be performed.

Task 3 (Improving water quality and restoring the ecosystem)
Water quality in the mainstream will improve to an average of Level Two
Ecological river restoration of the ecosystem through development of wetlands, and readjustment of farmlands.
The ecosystem will be rehabilitated by restoring ecological rivers, creation of wetlands, and readjustment of farmlands.

Task 4 (Creation of multipurpose spaces for local residents)
ex) Development of bicycle lanes (1,757 km)
Rivers will turn into multipurpose areas for lifestyle, leisure, tourism, cultural activities, and green growth. To this end, bicycle lanes (1,757km) will be developed, hands-on tour programs will be promoted, and walkways and sports facilities will be expanded.

Task 5 (Restoring ecology and regional development centered on rivers)
Ministry of Culture and Tourism (MOCT): Four major rivers that flow with culture
Ministry of Food, Agriculture, Forestry and Fisheries (MOFAFF): Creating a vivid land of beautiful scenery
The project will also contribute to regional development through various plans that utilize the infrastructure planned in the project and the scenery. This includes 'Four major rivers that flow with culture' of MOCT, and 'Creating a vivid land of beautiful scenery' of MOFAFF.

Installing nature-friendly fish-ways and wetlands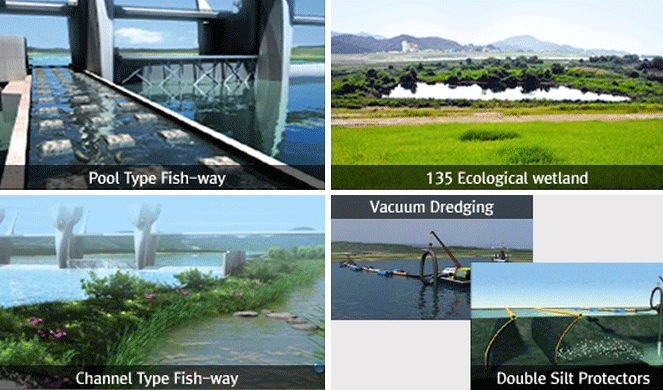 Minimizing ecological adverse effect during construction
Multiplication and discharging of the endangered fish species
16 Weirs
Geum Rivers
Yeongsan River

Nakdong River