Adaptation to Climate Change through Safe and Efficient Water Management
Environmental changes on the Earth, including climate change, have created concerns about water problems such as water shortage, water-related disasters, water pollution, and destruction of the water ecosystem. K-water has introduced the Integrated Water Resources Management (IWRM) and Smart Water Grid (SWG) to adapt effectively to climate change. First, the IWRM enables K-water to consider technologies as well as social, economic, cultural, and environmental problems in entire water circulation processes, maximizing water safety and welfare for Korean citizens. Second, by using the latest ICT, K-water is managing, responding to, and opening realtime operation information, establishing a water supply system that is efficient and credible.
Efforts to Reduce Greenhouse Gases
K-water, a designated business for the National Greenhouse Gas Goal Management System, has implemented the system. Through its efforts, it has achieved the emission goals for greenhouse gas reduction for four years between 2012 and 2016.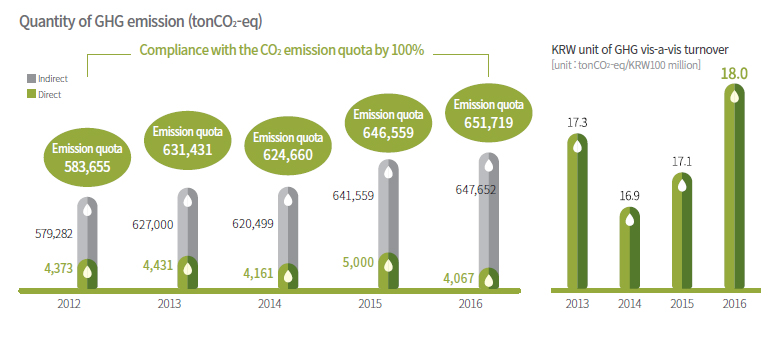 Realizing Carbon Profits through the Production of Clean Energies