Information target system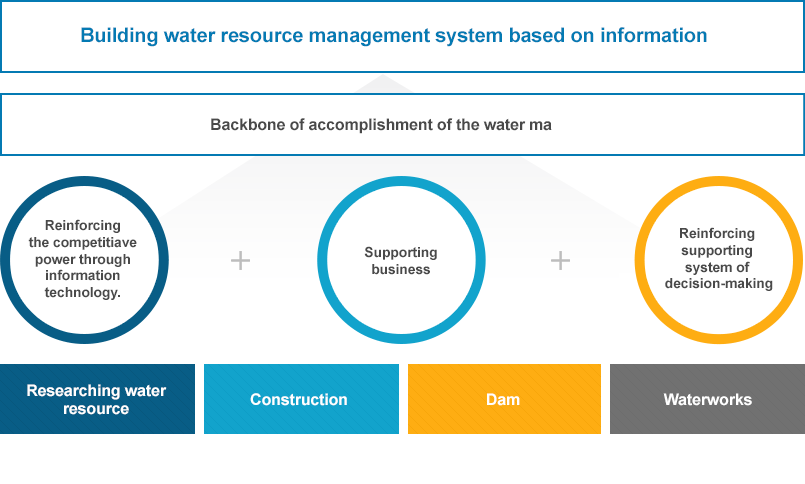 Management information service
Information portal system (OASIS)
Supporting information management such as e-approval and information management service.
Supporting direct access to official information system.
Supporting various Community Tools such as e-conference and forum.
Financial affairs information integration system.
Integrating 9 sections of financial affairs including Auditing, capital, budgeting, assets, etc.
Making fund-providing service into a bundle service with e-finance at the head office.
Personnel affairs · pay system
Operating system for the whole section based on competition and computerized performance evaluation systems.
Using on-line engagement system via the internet.
Education information system
Operating cyber training center which delivers education, student management and evaluations via the internet.
Operating Competence Reinforcement Program (CRP) in order to support employee's job duties.
Research information system
Research plan report supervising, research accomplishment evaluation supervising in order to research and manage systemically.
Managing actual result of research utilization and of technical support.
Business information service
Water management system.
Acquiring Real time data from flood forecasting/alerting facilities through satellite communication.
Create and save as flood gate data(storage, inflowing) required for reservoir operation
Managing floodgates at multipurpose dams country-wide synthetically.
Waterworks information system.
Integrated management system about managing and operating the wide range and industrial waterworks facilities related to the basic plan of National Geographical Information System (NGIS)
- Building 1/1,000 scale basic topographical map wide range waterworks GIS D/B
Waterworks facility operation system
Separate waterworks establishment at the corporate level (wide range waterworks, industrial waterworks, local waterworks and agricultural waterworks) into 12 sections and operate them linked with each other.
- Integrated operation center SCADA
- Build water operation programs (forecasting demands, controlling the water supply / intake pumps, analyzing of the pipe networks)
Development operation system
Build HOCC in order to maximize the development effects according to the water resource management by water management system(water utilization, water controlling etc.) and reformation of power industry structure.
- Building GIOS for whole the country.
- Modernize the unit RDAC
Construction Management System (CMS)
Each business subject shares all types of information accruing in the construction business through an internet network and also supports the construction business.
Building a standard classification system for construction information concerning dams, waterworks, and plant facilities.
Building an e-document management system based on XML
Building an integrated construction management system through integrating and linking the formal info-system and automating
construction processes, and operate it in conjunction with the National Construction CALS in 2005.
Information service for the people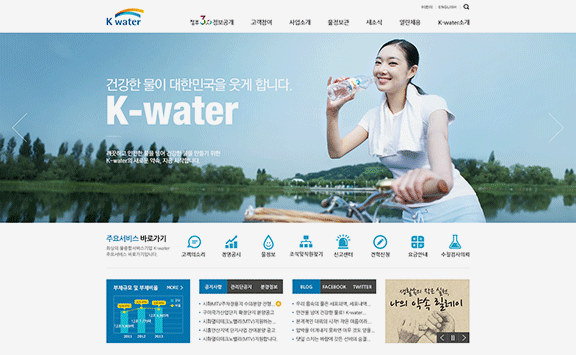 Playing a role of both side communication way of corporation and people including corporation P.R, civil application handling in public, and people's suggestion.
Providing various information services related to water resources such as real time dam floodgate images, dam floodgate data, water quality data, water information/education for children, and water stories, etc.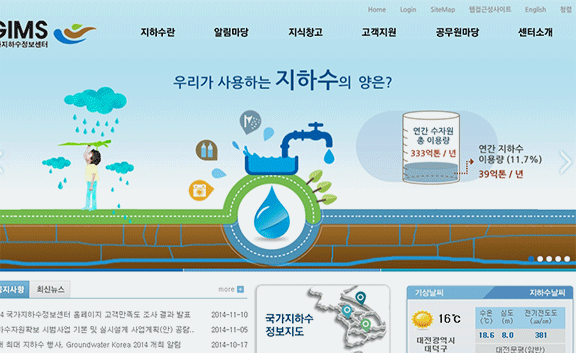 National Groundwater Information DB
- Well information(the whole wells in Korea about 1.46 million wells)
- National Groundwater Monitoring Network(361), Groundwater Quality Measuring Network(2,457), Secondary Groundwater Monitoring Network(1,281), Seawater Intrusion Monitoring Network(115)
- Hydrogeologic map(87 districts, 1/50,000)
Providing service for Groundwater information
- Groundwater data(well location, well facility, specification, use type)
- Groundwater monitoring data(level, temperature, EC)