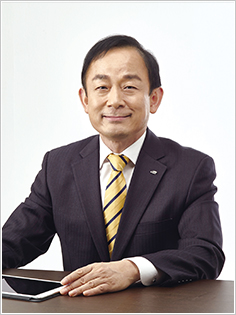 "Welcome to K-water's official website!"
For over half a century, K-water has grown into Korea's representative public water management company in parallel with the development of the national water management technology. Our efforts to protect citizens from droughts and floods and supply them with clean and sufficient water have laid the foundation for national economic growth and contributed to raising the national quality of life.
However, changes in water management conditions have been evident is recent years. The unification of water management in Korea has brought about innovative changes in the national water management system. Now, we need a shift from quantity-oriented water management that only concerns humans to a sustainable water management that considers quality and water ecology as well. Another challenge is narrowing the gaps in water quantity, quality, and rates among different regions. The public has showed increasingly high interest in new environmental and economic values that can be created by using water, such as environment-friendly cities where green energy is produced using water and a healthy water circulation takes place; job creation through the fostering of small and medium enterprises and venture businesses in the water industry; and growth through innovations.
"K-water, as Korea's representative public water company, has sought changes to meet the demands of the times and live up to the expectations of the people.
First, we will provide safe, clean and secure water services with river basin-based integrated water management.
We will contribute to the successful establishment of river basin-based integrated water management systems by concentrating our capacity on the improvement of water environment, safeguarding citizens from water disasters such as floods, droughts and deteriorating water quality, and enhancing the water quality and water ecology health that have been relatively neglected so far.
Second, we will continue with our commitment to provide water sharing services to ensure the supply of clean and sufficient water.
Instead of focusing on the construction of large dams, we will link existing dams and reservoirs and discover alternative water sources to secure the necessary amount of water, while preventing the waste of water through scientific demand management. In addition, we will narrow the gaps in water quantity, quality, and rates among different regions and strengthen the safety of drinking water so that people can drink tap water free from harmful chemicals without worries.
Third, we will create new values of water through the convergence of water, energy, and urban technologies.
We will actively develop eco-friendly water energy sources such as floating photovoltaic energy and hydrothermal energy. In addition, we will take the initiative in innovative growth, by solving urban water problems through the enhancement of water ecology services including the restoration of streams and the successful completion of the national smart city test operation in Busan Eco-Delta City using the Fourth Industrial Revolution based smart technology. As well, we will increase the competitiveness of the domestic water industry and create more jobs by expanding our support for SMEs and venture businesses.
Finally, we will be reborn as a public company for all citizens through our innovations to provide greater publicness and make a happier Korea with water.
We will continue to innovate our business practices and management process to provide services that people need by place our top priority on public values. We will also do our best to become a public company trusted by citizens, providing water services that the public can sympathize with through communication with a wider range of people and stakeholders and sharing values with them.
Please continue to support K-water as we strive to practice sustainable management with the aim of "Providing a brighter, happier, and more prosperous future with water."
Thank you.
Lee Hak-Soo CEO of K-water