We provide industrial water service which supplies water with various qualities that satisfies the demand of companies.
Industrial Water Business
K-water is leading the water market of next generation and actively participating in industrial water market, a high value added business, to secure the competitiveness of advanced water processing technology with recent opening of water market and expansion in industrial market participation of multinational companies.
We are stably supplying industrial water of 301,000m2 per day through 『Hyundai Steel Plumbing Facility Operation & Management Business (182,000m2/day, 2009)』 and 『Daesan Custom-made Integrated Industrial Water Supply Business (119,000m2/day, 2012)』 with 5 chemical factors located in Daesan Yimhae Industrial Complex as its target.
Based on water supply experience accumulated for a long period of time and nationwide water and sewage operation & management network, we are continuously doing our best to develop optimal water processing method and ultra pure technology and provide custom-made total solution for water supply secured of optimal water quality and quantity.
What is industrial water?
- Definition : It is common use industrial water such as raw water supplied to company which is used after reprocessing to fit the purpose of each company
- Use : Cooling water, boiler water, ultra pure water, water with other purposes, etc.
Type and Use of Industrial Water
Substance for Removal

| Section | RO water | Pure Water | Ultra Pure Water |
| --- | --- | --- | --- |
| Non-resistance | 0.1MQcm or less | 0.1MQcm or higher | 10MQcm or higher |
| Procedure | Multiple filtration tower, Activated carbon absorption, RO membrane | Ion exchange, CO2 deaeration | Deaeration of dissolved oxygen, ultra-filtration |
| Use | Steel, Petrochemistry | Power generation, Automobile, Wood pulp | Semiconductor, Display, Pharmaceutical |
| Company | Hyundai Steel, 5 companies in Daesan, Yeosu Chemicals | Wongwang Nuclear Energy, Hyundai Motors, Donghae Pulp | Samsung Semiconductor, Hynix Semiconductor, LG Display |
* Non-resistance: Electricity resistance per unit area and unit length
Current status of industrial water operation business
K-water is producing and supplying industrial water for Hyundaisteel in Dangjin-si and 5 companies in Daesan (Samsung Corporation, Hyundai Oilbank, Lotte Chemicals, LG Chemicals, KCC)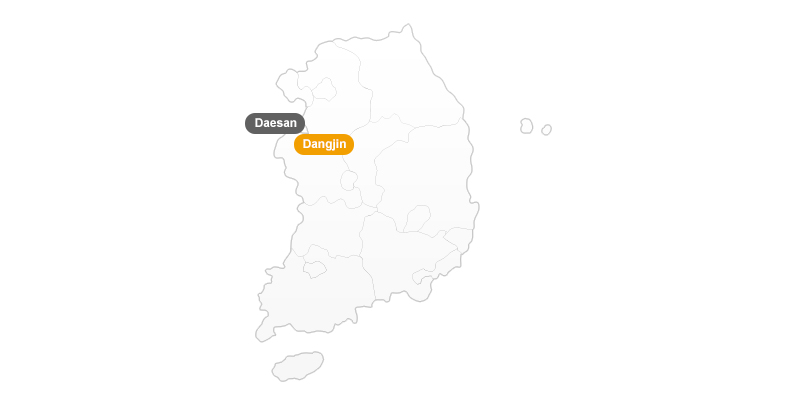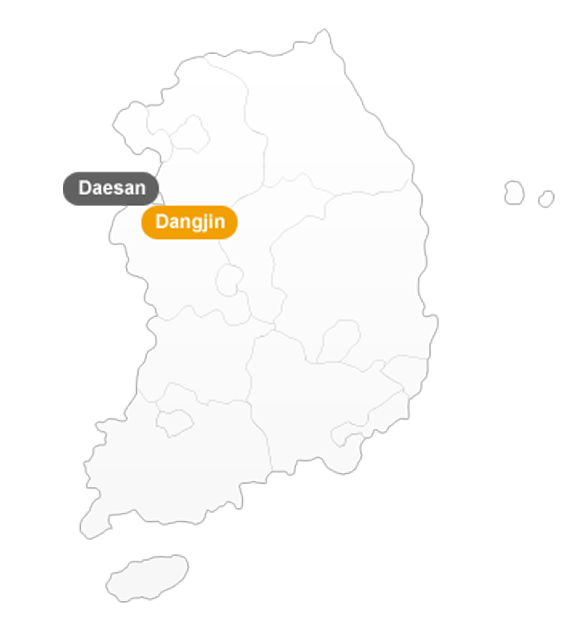 Dangjin
Data Item
Details
General Status
Introduction

Stable supply of customer-oriented industrial water with Hyundai Steel plumbing facility operation & management in connection with local water supply (initial industrial water business of K-water)

Water Source
Asan sediment water (# Asan purification plant, Water source: lake Asan)
Facility Capacity
182,000m2/day (phase 1: 136,000m2/day, phase 2: 46,000m2/day)
Business Method
Operation consignment business (Possessed by: Hyundai, Operated by: K-water)
Water Processing Procedure
Asan sediment water -> Pre-processing (AMF) -> 1st and 2nd reverse osmosis
Business Period
'09.5.1~'23.12.31 (14 yr 8 mon)
Business Location
Dangjin Steelworks of Hyundai Steel, Dangjin-si, Chungnam
History
· ('09.2.9) Conclusion of contract for 『Hyundai Steel Plumbing Facility Operation & Management Business』
· ('09.5.1) Start of consignment operation for stage 1 plumbing facility(136,000m2/day)
· ('12.12.21) Change in operation contract (including the increase in stage 2: 136,000m2/day -> 182,000m2/day)
· ('13.1) Start of increased operation in stage 2
Daesan
Data Item
Details
General Status
Introduction

Increase in customer satisfaction and creati.on of new growth power business with integrated supply of high quality and low cost industrial water to Daesan Yimhae Industrial Complex

Water Source
Asan sediment water (# Asan purification plant, Water source: lake Asan)
Facility Capacity
Industrial water 119,000m2/day (reverse osmosis), Water water 11,000mx/day
Business Method
Industrial water supply business (construction & operation with its own investment)
Water Processing Procedure
Industrial Water
Asan sediment water→Pre-processing (AMF)→1st and 2nd reverse osmosis
Business Period
Waste Water
SBR reaction tank (dehydration, sludge take out)
Business Location
'12.8 ~ '37.8 (25 yr)
Introduction
Dangjin Steelworks tof Hyundai Steel, Dangjin-si, Chungnam
Target Company
Hyundai Oilbank, KCC, Samsung Corporation, Lotte Chemicals, LG Chemicals
History
· ('09.1.19) Conclusion of enforcement agreement (K-water↔5 companies in Daesan↔Seosan-si)
· ('11.1.13) Start of construction
· ('12.10.17) Completion of construction ('12.8.21 Start of water supply)