Efficiency Enhancement Project for Local Water Supply Service
We provide high quality tap water service nationwide.
K-water is providing total solution for local water supply service based on capacity accumulated for over 40 years.
With consignment contract on operation and management of local water supply service facing difficulty due to poor budget and administrative condition, we have achieved dramatic improvement in operating efficiency of local water supply service with professional manpower, advanced technology, and intensive investment on facility enhancement of K-water.
We will contribute to securing of competitiveness in domestic waterworks from now on by resolving the imbalance in water supply service of nation and enhancing administrative efficiency of local water supply service.
Business Introduction
K-water is conducting consignment operation for total 22 local governments from Nonsan in '04 to Bonghwa in '13.
Business Introduction - Gyeonggi-do, Chungcheong-do, Jeolla-do, Gyeongsang-do

| Gyeonggi-do | Chungcheong-do | Jeolla-do | Gyeongsang-do |
| --- | --- | --- | --- |
| Dongducheon, Yangju, Paju, Gwangju | Nonsan, Seosan, Cheonan(industrial), Geumsan, Danyang | Jeongeup, Naju, Hampyeong, Wando, Jindo, Jangheung | Yecheon, Goryeong, Bonghwa, Sacheon, Geoje, Goseong,Tongyeong |
Legal Basis
Article 23 (consignment operation and management of water supply facility) of 『Water Supply and Waterworks Installation Act』
※ # Consignment Institution: Directly operated local company, public corporation, and industrial complex, KECO, K-water, and private company specified in enforcement ordinance of 『Water Supply and Waterworks Installation Act』 Article 36.
PR
What is freeze protection pack?
It is a product inserted to protection box of water meter for prevention of freeze and burst. It refers to a vinyl with Styrofoam grain and desiccant applied of heat sealing for adhesion.
· Development of Freeze Protection Pack
- It was developed by K-water Yangju Water Supply Service Center in 2008 and sample installation of 5000 cases was conducted in 13 eup, myeon, and dong of Yangju-si.
- Examining the effect of sample operation, we have been conducting free installation to customer of local governments under consignment since '09.
· Supply Target
- It is supplied to socially disadvantaged class with priority and supply target is selected each year based on consultation with each local government.

· Current Status of Supply
| Section | 2009 | 2010 | 2011 | 2012 | 2013 | Total |
| --- | --- | --- | --- | --- | --- | --- |
| Total | 9,022 | 33,302 | 24,847 | 23,395 | 20,649 | 111,215 |
What is tap water safety check system?
- It is free service to conduct water quality inspection with customer regarding 6 important water quality items relevant to safety of tap water through direct visit to each household.
- We will do our best so that high quality tap water can be supplied directly to tap of household through tap water safety check system.
Conformance certificate is issued based on inspection result and 52% of customer who received tap water safety check system started to drink tap water with confidence in safety of tap water.
Water Quality Inspection Items for Tap Water Safety Check System
- Turbidity : Turbidity of water
- Iron : Iron elution from water pipe
- pH : Criteria for acidity and alkalinity of water
- Residual Chlorine : Quantity of antiseptic (chlorine) which prevents the proliferation of pathogenic microorganisms
- Copper : Copper elution from water pipe
- Manganese : Trace element included in natural water system accumulated with attachment to the pipe

Q. Do you know the tap water is at least 380times cheaper than mineral water?

| Section (based on'13) | Tap Water | Domestic Mineral Water | Imported Mineral Water |
| --- | --- | --- | --- |
| Price (won/L) | 0.4 ~ 0.7 | 270 ~ 600 | 1,400 ~ 2,470 |
Our body requires 2L/day of water (8 glasses) and you can save at least 100,000won/year when drinking tap water instead of mineral water
How to register for tap water safety check system

- Phone :

1577-0600 without regional number


- Internet :

www.water-pos.kwater.or.kr
※ K-water only provides tap water safety check system for 21 local governments under consignment operation by K-water
·What is water care service?
It refers to a service to be provided to local government under consignment management of K-water for creation of customer value through development of service conforming to the policy of new government and reflecting the social trend of consideration and co-existence.
·Contents of Service
- Fee Reduction for Socially Disadvantaged Class : Enactment of standard ordinance for fee reduction to the socially disadvantaged class including basic livelihood security recipients, the disabled, a child head of household, etc → Induce the local government under consignment for revision
- Improvement in Customs of Work Process : Improvement in customs including the succession of default service fee to new owner, random calculation of late fee, extra charge for frozen water meter, etc.
- Increase the convenience in billing and payment
Executing Task
Contents
Notes
Billing
Bill with big letters
Simplification in notification and big letter display for the elderly
Introduction completed
Bill with braille
Promotion of convenience in billing and securing the right to know of visually impaired
Currently under progress
Convenience In Payment
Expansion in standard service for bill payment
Integrate different payment method for each management group as standard type
Currently under progress
Partial withdrawal service for automatic transfer
In case of insufficient balance in account, partial amount of bill is also paid.
Introduction completed
Mobile default prevention service
Inform the due date for billing and default amount through mobile text
Currently under progress
·What is SQI?
- It is a system developed and introduced for the first time in the field of domestic public corporation and water supply as evaluation index for service quality control.
- Feedback activities on service provided to customer is conducted through monitoring and diagnosis of 4 evaluation items every month for provision of better quality service.
- Evaluation item is composed of total 4 types of index that are satisfaction on meter reading service, satisfaction on civil complaint processing by visit, rate of reading error, and expiration date observance for civil complaint processing.
·SQI Process
SQI (Service Quality Index)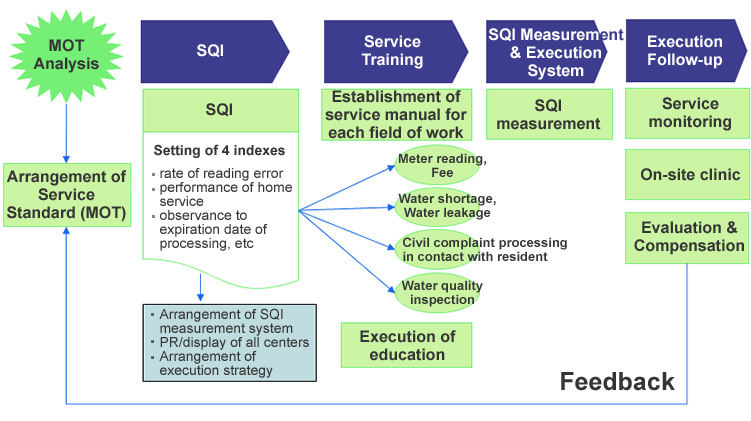 ·Remote Monitoring
K-water is doing its best to provide the best water supply service to customer through 24 hour real-time monitoring of water quality, water pressure, flow, water level, and others based on real-time meter equipment integrated with IT technology.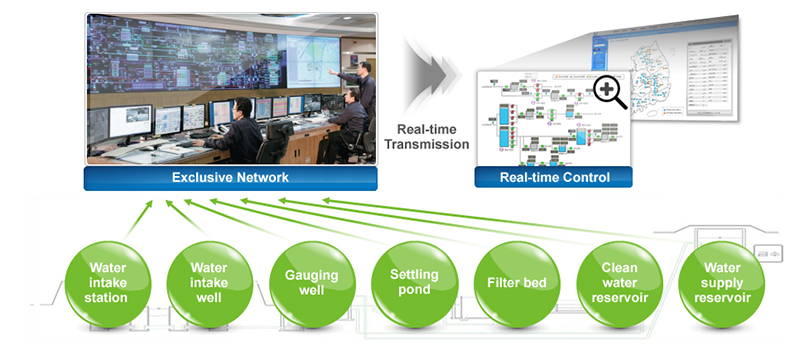 ·Water-NET (integrated water supply network operation and management system)
K-water conducts scientific pipe network management utilizing water-NET which integrated pipe network DB management, pipe network diagnosis, and pipe network operation into one system.