Since the survey of the Fen he River in Shanxi Province in China in 1994, which is the first international project ever implemented by K-water, K-water has accumulated its own expertise, technologies, public trusts and global networks in the water industry. Based on such achievements and know-how, it has continued its efforts to provide a total water solution over the whole process of water cycle for the world, and ultimately enrich the world with water. K-water is ready to take a great leap forward the world leading company with its so-far achievements and reputation in global market.
Status of major overseas projects
K-water's integrated water management projects can be found all over the world it has built dams and HEPPs(hydroelectric power plans), and has proceeded with other many projects around the world for the development & operation of water supply infrastructure for beneficiary countries to improve their people's quality life, which, in turn, will be the driving engine for their respective industrial development.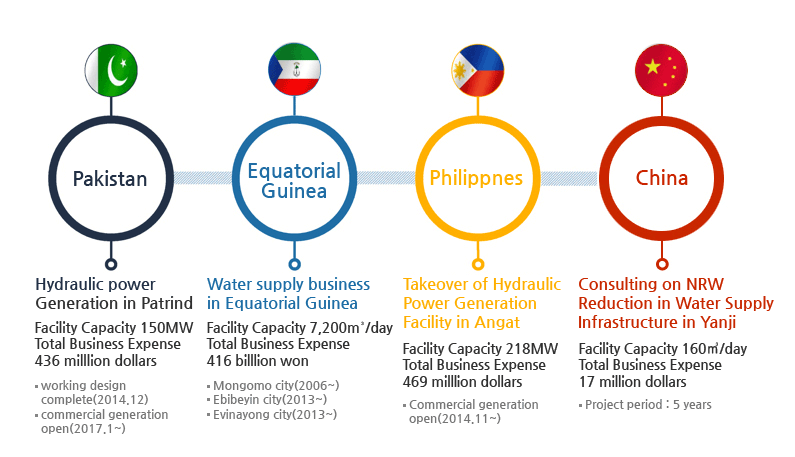 Pakistan Patrind HEPP BOT Project
Installed capacity : 150MW
Project costs : USD 436 million
Project period : 34 years (December 2012 to January 2047)
-Four years for construction and 30 years for operation and maintenance
Location : AJ&K, Pakistan
Current Status : Commercial Operation to be launched (within 1st half of this year)
(Philippine) Angat HPP Project in the Philippines (M&A
Installed capacity : 218 MW
Project costs : USD 469 million
Project period : 50 years (November 2014 to October 2064)
Location: Bulacan, the Philippines
November 2014, Commercial operation launched
Current Status : The facility is operated and managed
(Georgia) Nenskra HPP Project (BOT)
Installed capacity : 280MW
Project costs : USD 950 million
Oct. 2015 : Ground Breaking Ceremony
Current Status : Negotiating Financial Closing
Bulacan, Philippines Waterworks Project
Installed capacity : 388㎡/Day
Project costs : USD 170 million
Jan. 2016 : Concession Agreement signed
Current Status : Negotiating Model of Project
SWMI projects in Iran, Chile, and Algeria (currently underway)

Started a new water market in Iran

Constructed an integrated dam management system project in Algeria

Improved SWM revenue water ratio business in Chile