K-water will always be there to fill you up with a happy, beautiful time.
K-water will always be there where waterfronts can evolve into environment-friendly waterfront cities.
K-water will always be there as creativity itself for you to create an ecologically comfortable, beautiful culture city.
K-water will always be there to fill you up with a happy, beautiful time.
K-water has developed national industrial complexes in Yeosu, Onsan, Gumi and Changweon to foster heavy and chemical industries since 1970s, including the nation's first planned city in Ansan, which indicates that it has significantly contributed to the development of the national economy.
With its own water-related technologies, K-water has also developed lots of waterfronts around dams, rivers, lakes and the sea, including eco-friendly, people-oriented waterfront cities where water, nature, culture, and human beings can coexist with one another.
Granting of new value to waterside space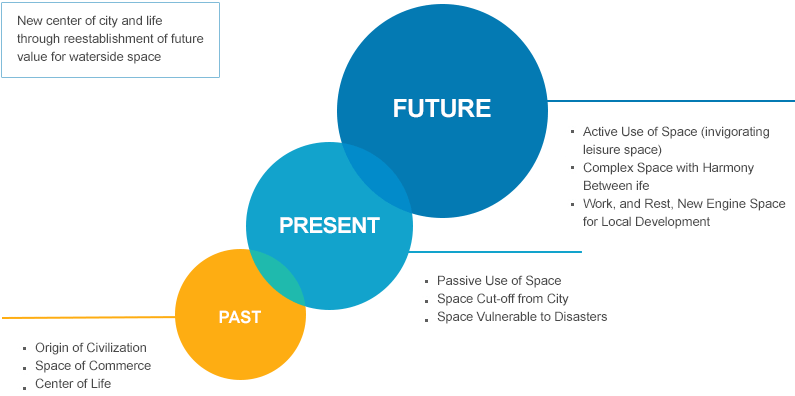 Map of Waterside business
Development of waterfront cities where people can live a happy live with K-water's own waterrelated technologies and techniques
Smart Waterfront Cities

Build safe cities resilient to water-related disaster

* Develop eco-water corridors in a city and integrated water management systems

Supply quality water services through ICT-based water management practices

* Operate smart water distribution networks and provide real-time water quality information
Ecological Waterfront Cities

Sustainable waterfront cities

* Maximize waterfronts' potential uses along dams, rivers, canals, river, etc.

Specialized waterfront cities

* Waterfront parks, river walks, inner-city canal, waterfront CBD
Cultural Waterfront Cities

Develop waterfronts to meet people's cultural needs

* Marine resorts, theme parks, water sports, waterfront marathon, yearround festivals, etc.

Create space where nature and people coexist


* Green zone, parks, archeological sites, natural conservation parks, etc.
Eco-friendly waterfront city
K-water has created future-oriented waterfronts equipped with residential & commercial, cultural and leisure functions where lives, works and rests can harmoniously coexist, and thereby has contributed to the respective development of the local economies' own.
World-class Waterfront City, Sihwa

Smart waterfront city developed with water-related city design & planning techniques

- 3 S's (Safe, Stable, Smart) smart city converged with ICT-based LID and SWG technologies

- Smart city where it's possible to share real-time, two-way water information through water-Net
(diagnosis, operation and management system for water distribution networks)

- Waterfront city dedicated to cultural, touristic and leisure activities
(marine resorts, theme parks, water sports, waterfront trails, etc.)
Busan Eco Delta City

Exemplary waterfront city K-water has been developing

- Eco-friendly cultural waterfront city where the three rivers meets one another

- Self-sustainable & world-class waterfront city

- LID-based ecological city

- City the 21st waterfront development paradigm is melted into<